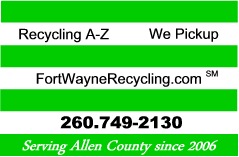 Appliance Recycling Pickup from "FREE" up to $25
Appliance Recycling in Fort Wayne, Junk Vehicles Removal, Farm implement Removal, Shed Removal, Deck Removal, Scrap Metals, Tractor Removal, Electronics, Furniture, Bedding, TV, Computers, Printers, Cars, Trucks, Motors, Batteries, Tires, Lawn and Garden items, Industrial and Farm Equipment, Roofing and Construction materials, Woods, Plastics, Glass, Rocks, Dirt, Sand etc.
Get An Appointment:
Call and Leave a message with your Name, Address, and Item(s) to be recycled or...
E-mail- Info-Schedule@Fortwaynerecycling


Our Commitment To Our Community
Disposal Repurpose in Fort Wayne, pickup service in Allen County. Call our well trained, trustworthy professionals today.
We will come to your home or busines and remove your old appliances or junk safely. We are EPA certified and licensed to handle refrigerants etc. We are experienced and safe.